Case 1. Natural results are possible with two Procera all ceramic crowns, bonding and bleaching to treat worn and discoloured front teeth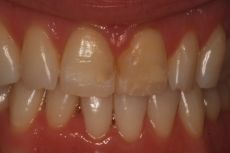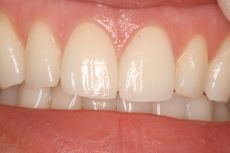 Case 2. A discoloured root treated front tooth. This lady did not want to change the gaps between her teeth as they were part of the character of her smile. A single all ceramic crown was provided to hide the discolouration.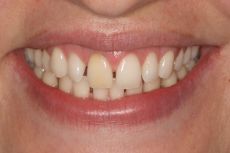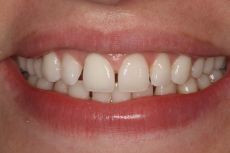 Case 3. Crowns and Veneers were used to straighten these crooked teeth. This lady did not wish braces. Only 4 teeth were treated along with with some composite build-up of the canines, but this was enough to totally transform her smile.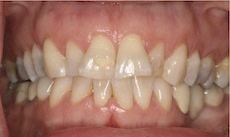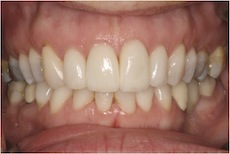 Case 4 - This shows the process in having crowns done. This lady had previous crowns which had cracked and were causing gum bleeding due to poor fit under the gum. The old crowns were removed and temporary well fitting provisionals crowns placed for some months to allow the gums to heal. After the gums were healthy again, an impression was made and the final high strength all ceramic crowns were cemented.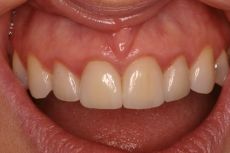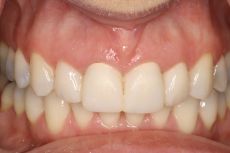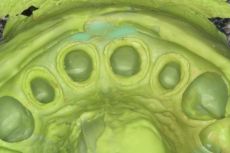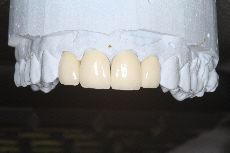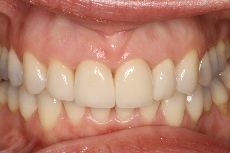 Case 5 - Many people worry that crown will look unnatural. A crown is a custom made medical device. The artistry of the dental technician can create results imperceptible from nature. The case shows a single all ceramic crown on a discoloured central incisor and composite bonding to the other. The results are highly realistic and durable.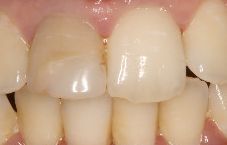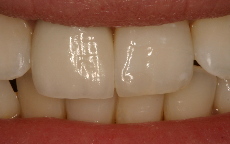 Case 6 - Crowns can be used to repair and protect back teeth. This case shows a patient with a lot of night time grinding. He has broken his previous dental work in a short period of time and had  worn down his natural teeth to stumps. Dr. Fitzgerald used metal biting surfaces on the crowns and bridges to gain maximum strength. This silver coloured gold alloy is not visible when smiling. A protective night splint is worn at night to protect the new crowns.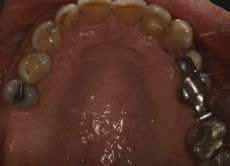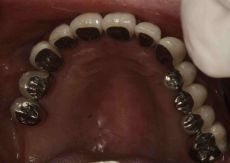 Case 7 - Crowns used to Close gaps and contour teeth which are developmentally small.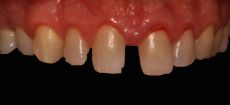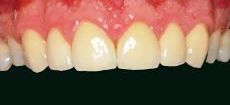 Case 8 - 6 Crowns to reinforce and improve aesthetics for a lady with previous inadequate dentistry. She wanted a quick fix for her daughters upcoming wedding and did not want braces. Shade and shape was used to draw the eye away from the asymmetry in the gums.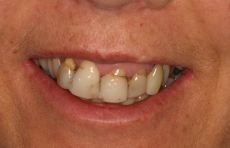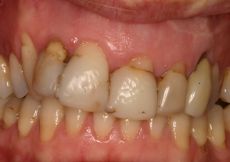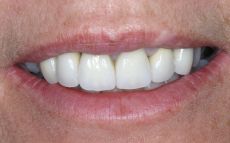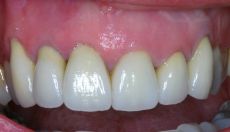 Case 9 - Crown lengthening and 6 crowns to fix acid erosion cause by a stomach problem.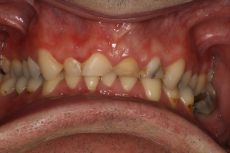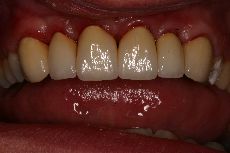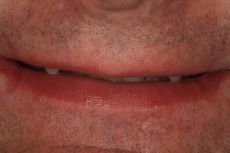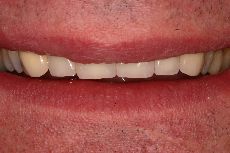 Case 10 - Six All Ceramic Crowns used to reinforce and improve the appearance of teeth damaged by decay and root canal treatments.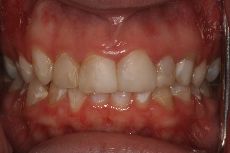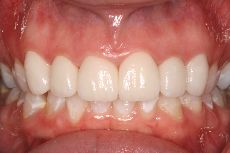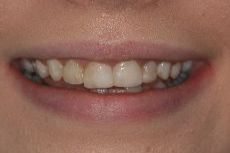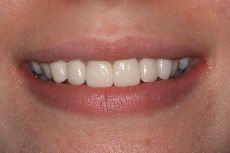 Case 11 - Discoloured right front tooth after root canal treatment. Single All Ceramic Crown.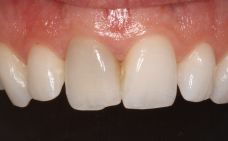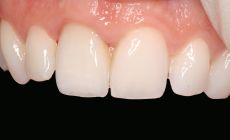 Case 12. Acid Errosion Upper arch crowns and lower arch bonding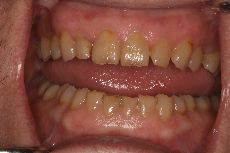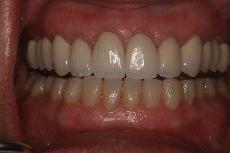 Case 13. 4 All Ceramic Crowns upper front teeth.