Sterilisation
In order to protect your safety we follow best international standards in Cross Infection Control this includes the following.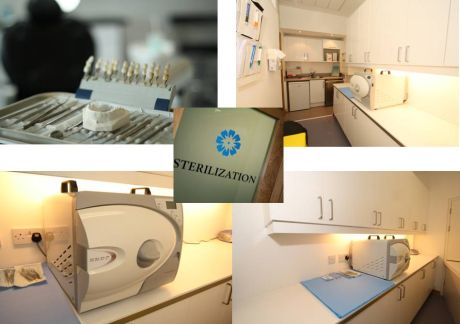 1. Full tracking of all instrument packets and cassettes. Tracking of sterilisation cycles.
2. Use of Disposables wherever possible.
3. Weekly Bowie-Dick tests on Autoclave.
4. 4 Part instrument cleaning and Sterilisation process in our dedicated Sterilisation area.
Instruments Ultrasonically bathed for 15 minutes in Enzymatic cleaner.
Instruments put on a 90 minutes high temperature instrument washer cycle.
Instruments dried and packed in sealed sterilisation packets.
Instruments Sterilised in a Type B Vacuum Autoclave reaching temperatures of 134 Degrees at 30 PSI held for 30 minutes.
5. Zoning of dental Surgery.
6. Use of high level surface disinfectants.
7. Treatment of waterlines for Biofilm daily and weekly. Our surgery is custom designed so that our equipment and piping is dead leg free to prevent stagnation of water.
8. Use of only treated water from a reverse osmosis bacterially filtered supply.